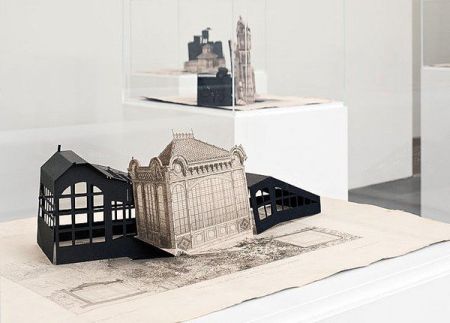 CARLOS GARAICOA
A CITY VIEW FROM THE TABLE OF MY MOUSE
Kunsthaus Baselland
St. Jakob-Strasse 170 - 4132 Muttenz/Basel
1/6/2012 - 15/7/2012

Carlos Garaicoa (born 1967 in Havana, lives in Havana and Madrid), in his exhibition in the Kunsthaus Baselland, combines his older works with completely new ones. In his work, he examines architecture and urbanism as image and reflection of political reality and social development. His photography, drawings, sculptures, installations and films draw attention to the crises and history of urban spaces.
The artist has already participated in numerous international exhibitions, including the Documenta XI (2002), the Biennale in Venice (2005, 2009) and the Havana Biennale (2009, 2012). His works have been exhibited as comprehensive solo exhibitions in renowned galleries, such as the Institute of Contemporary Art (ICA), Philadelphia (2007), the Irish Museum of Modern Art, Dublin (2010) and the Kunstverein Braunschweig (2012).
Since the 1990s, he has repeatedly used his birth city as a point of orientation in his work. The lost splendour of the Spanish colonial era is mirrored in its neo-classical ruins, and the consequences of the decline of modern ideology show themselves vividly in the often incompletely materialised structures of socialism. Garaicoa adds to these objects a critique of his own utopia. He completes, for instance, monochrome photos of dilapidated buildings with fine, coloured threads, restoring or finishing imaginary structures that were never actually completed. He thereby presents a universal critique of both government and institutions for not preventing the decline of the city since the 1959 revolution, as well as the general ideologies of the twentieth century.
Many of his works are as fragile as hope in crisis-plagued times, or as remembrance of the past: The Old and the New (2010), as an example, is a 12-part series of works on paper, in which fine lithographs of historic facades gingerly rear up, complemented and aesthetically ruptured by utopian silhouettes of black cardboard.
Garaicoa's portrayal of the city is continually disengaging from the haptic places of reality, creating artistic urban visions. A fictitious city, grappling with the theme of private and public spheres, is presented in the photo installation, A City View from the Table of My House (1998): seemingly antiquated everyday objects like crystal vases, lamps and glass flacons together constitute a model of buildings and places that their owner can arrange. At the same time, the objects themselves relate a personal history and form the character of a typical city.
By contrast, Bend City (Red) (2008) at first glance is a collection of minimalist paper sculptures. On closer inspection, pages, bridges, buildings and monuments emerge from the 96 folded red paper through fine cuts and folds. The individually created structures seen together form the poetically gloomy utopia of a monotonous socialist city.
Carlos Garaicoa's work is often composed of ironic political components, as seen in the installation, Prêt-à-porter, which focuses on the motif of hats or headgear, employed as a formal and symbolic element. In this installation, the artist positions a collection of wooden hat moulds and designer hats on a large table. Hats are a significant symbol for political and official dignitaries. Complemented by collages, in which the artist crowns political figures with illustrated hats, a continuum of subtle irony permeates the work, demonstrating the interplay of power and apparel. With Nikolas Sarkozy wearing a joker's hat, a clear political statement is being made, calling the politician's credibility into question.