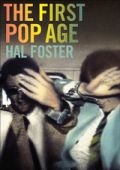 HAL FOSTER
THE FIRST POP AGE
Painting and Subjectivity in the Art of Hamilton, Lichtenstein, Warhol, Richter, and Ruscha
Princeton University Press, 21/11/2011

Who branded painting in the Pop age more brazenly than Richard Hamilton, Roy Lichtenstein, Andy Warhol, Gerhard Richter, and Ed Ruscha? And who probed the Pop revolution in image and identity more intensely than they? In The First Pop Age, leading critic and historian Hal Foster presents an exciting new interpretation of Pop art through the work of these Pop Five.
Beautifully illustrated in color throughout, the book reveals how these seminal artists hold on to old forms of art while drawing on new subjects of media; how they strike an ambiguous attitude toward both high art and mass culture; and how they suggest that a heightened confusion between images and people is definitive of Pop culture at large.
As The First Pop Age looks back to the early years of Pop art, it also raises important questions about the present: What has changed in the look of screened and scanned images today? Is our media environment qualitatively different from that described by Warhol and company? Have we moved beyond the Pop age, or do we live in its aftermath?
A masterful account of one of the most important periods of twentieth-century art, this is a book that also sheds new light on our complex relationship to images today.

Hal Foster is the Townsend Martin Class of 1917 Professor of Art & Archaeology at Princeton University, and the author of many books, including The Return of the Real, Design and Crime, Prosthetic Gods, and The Art-Architecture Complex. A member of the American Academy of Arts and Sciences, he was the 2010 recipient of the Clark Prize for Excellence in Arts Writing and the 2011 Siemens Fellow at the American Academy in Berlin.